HURRICANE IRMA - September 5, 2017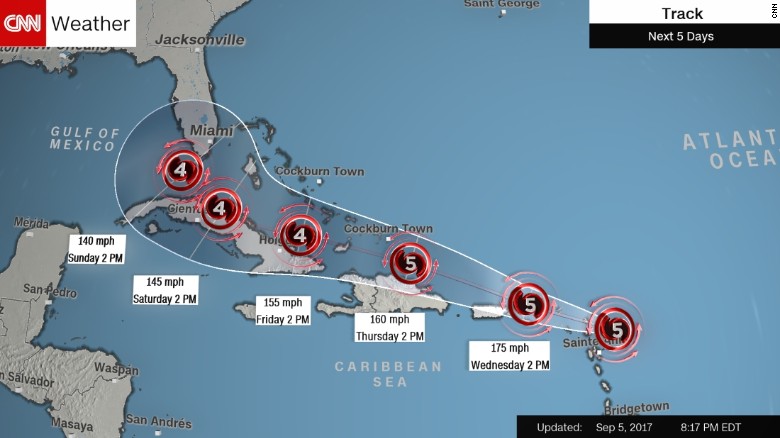 I received a phone call today at 2:27 p.m. The caller ID showed that the call was from Congo, Brazzaville so I did not answer it because I had no idea who would be calling me from Congo and figured it was a telemarketing call. Then MaKayla called me at 2:43 p.m. and said she just got off the phone with Eric. Eric had tried calling me first but I didn't answer, it was him calling when it showed Congo, Brazzaville. He then tried calling Kelsey at 2:28 p.m. and her phone call also showed Congo, Brazzaville so she didn't answer her phone either. He called MaKayla and talked to her and then when he hung up with her he tried calling Matthew at 2:43 p.m. but Matthew was in a SCBA training so he didn't get to talk to Matthew. He then called Roger and Roger's call came through as Bahamas, Nassau so he answered the phone and Roger, Kelsey and Andrew got to talk to him too. I believe he called Matthew again when he hung up with Roger and Kelsey and Matthew made a three way conference call with Emilee and the kids so they were all able to talk to Eric too. Eric called my phone again at 3:28 p.m. and it showed Nassau, Bahamas so I knew it was him. We talked for about 30 minutes. He said " I love you momma!!" as we hung up and I said "I love you too honey! Be Safe!!!" I did not cry while I talked to him but tears fell after we hung up. I pray for his safety!
The reason why he was calling was to let us know that President Pearson was having the missionaries that were on the Bahamas flown back to Jamaica tomorrow, September 6 because Hurricane Irma is threatening to hit the Bahamas and the Turks and Caicos islands. Sister Pearson told the missionaries to call any immediate family members they wanted to call to let them know that they were being evacuated from the Bahamas and flying to Miami and then onto Montego Bay in Jamaica. We are praying for their safety and pray that the people in the Bahama's will be watched over. This storm could go just about anywhere at this point but they did not want to leave the boys on the Bahamas just in case there was a direct hit on such a small island.
Right now it is difficult to forecast where this "Monster Storm" will hit. Hurricane Irma is a Category 5 Hurricane tonight and they say it is possible she will gain more force and could be the largest and most devastating storm the Atlantic Ocean has ever seen. Irma is a Category 5 hurricane with with speeds around 185 miles per hour. A Category 5 storm has to have winds of at least 155 mph and they are relatively rare. With winds that strong, there is a high likelihood that framed homes could be destroyed and damage to trees and power poles will result in power outages that last for weeks. They have estimated that the eye of hurricane Irma is 23 miles wide.
This is an email I received from Julie Christensen who is Elder Dylan Christensen's mom:
Julie is friend with a lady who lives in the Bahamas and is the "Missionarie's Mom" on the Bahamas. She sent this *** email at 9:42 p.m. on September 5, 2017:
***


Sent from my iPhone

Begin forwarded message:
From:
Date: September 5, 2017 at 9:42:30 PM MDT
To:
Subject: Nassau update
Hello missionary parents,
What a hectic and exhausting day we have had here! Things changes quickly during the course of the day. We went from prepping to ride out the storm at the house to making evacuation plans!

The elders spent the afternoon packing up their apartment and this evening brought personal belongings over, for what we are hoping will be safer storage at our house. We had pizza and they helped us move furniture around to make room inside for all outdoor items to come into the house.

Tomorrow will be an early day. The Elders are parking their mission cars in our neighborhood and we will drop them at the airport around 5:00 AM for a 7:30 AM flight to Miami, then off to Jamaica. Our family is scheduled to leave Thursday morning for Washington D.C.

I wanted to express my gratitude to our Heavenly Father. He is truly looking out for His servants here. I still don't understand how the mission office found three tickets off the island for Wednesday. Everything had been sold out and although President Pierson decided to evacuate the Elders, I was concerned that the window had passed. It truly is a miracle that they are able to leave!

I'm also grateful that Sister Pierson allowed them to call home. As a mom she knew how you all must be worrying!

I'd better go. We have an early start tomorrow!

Love,
Sister
At Brother and Sister house in Nassau Bahamas - September 5, 2017.
Boxing things up and leaving the island before Hurricane Irma hits.
The missionaries are flying back to Jamaica.
The family is being evacuated also
Elder Eric Call,
Elder Wilding left front and Elder Christensen in the dark blue.